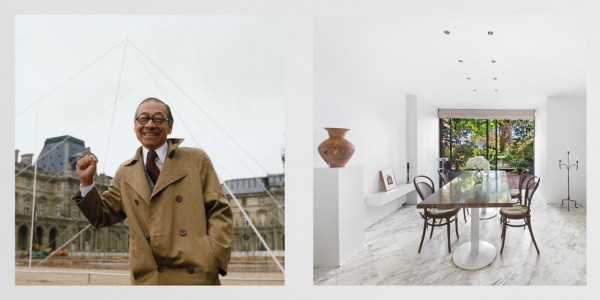 Legendary architect I.M. Pei died in May at 102 years old, leaving an impressive body of work that included the Louvre Pyramid in Paris. Though his masterpieces are scattered around the world, the Pritzker Prize-winner based his firm, Pei Cobb Freed & Partners, in New York City. It's also where he lived for 45 years — in a four-story Sutton Place townhouse that's now on the market for $8 million.
Located at 11 Sutton Place, the townhouse features a striking spiral staircase and a geometric skylight—both designed by Pei—as well as glass walls with views of the private park and the East River.
Pei's son Sandi told the Wall Street Journal that when his father and mother, Eileen, bought the house in 1973, it was "dark and dirty and sort of crumbling." But Pei overhauled the property, adding his modern aesthetic. And it's everything you'd expect from the architect.
The nearly 4,000-square-foot home features a spiral staircase, several picture windows, Tasmanian oak and marble floors, a fireplace framed by soapstone, built-in bookshelves, and a skylight that looks like Pei's famous glass pyramid at the Louvre. Elsewhere in the 4-bedroom, 3-bathroom home is a temperature-controlled wine cellar, private elevator, chef's kitchen, and a garden.
Though each floor is stunning, the parlor level might be the most impressive. There are views of the river-facing private park in the rear through large windows, 10-foot ceilings, Pei-designed fireplaces, and a library with towering, built-in bookshelves. It was here where the design master would "host lively intellectual affairs with their circle of friends, global dignitaries, and artists."
The second-floor library features floor-to-ceiling built-in bookshelves.
It has a modernist aesthetic and boasts several stunning details including floor-to-ceiling picture windows throughout the home.
Its living room has 10-foot ceilings, Tasmanian oak floors, and a fireplace with a soapstone frame, also designed by Pei. There are multiple additional fireplaces, built-in bookshelves, and marble floors on the garden level.
It offers views of Sutton Square Gardens, the East River, Queensboro Bridge, and Roosevelt Island.
City records show that Pei bought the house back in 1973 for $215,000. The late Pritzker Prize winner purchased the property from Laura "Polly" Delano, Franklin D. Roosevelt's cousin. Pei transformed it, adding the house's iconic details including its floor-to-ceiling windows and staircase.
Here is the kitchen.
The formal dining room leads to a private garden and park.
It can be accessed on street level.
The property offers views of a private park facing the East River.
Sutton Place is a collection of 14 townhouses that share a garden along the East River. It first came about in the 1920s when Anne Vanderbilt and Anne Morgan (J.P. Morgan's daughter) spearheaded the effort to turn the area into a fashionable enclave secluded from the noisy city. Other notable residents throughout the years have included Elizabeth Arden, Ari Onassis, and Kofi Annan.
Eileen and I.M. Pei were big art collectors, and Christie's will also be handling an auction of their paintings, drawings, and sculpture this November and December in New York, Hong Kong, and Paris.
Photos courtesy of Christie's International Real Estate