Find new ways to reinvent old furniture and upcycle unwanted junk into funky new treasures.
Log Slice
With the live-edge wood top and retro legs, this table combines earthy-contemporary design with a mid-century modern aesthetic.
Lawyers' Bookcase
This antique cabinet serves as a handy nightstand with its ample storage, wide counter space and tons of character.
Wood Soda Crates
Four old soda crates make a combination coffee table and shadow box. The crates were attached to an old table base, then a piece of tempered glass was laid over top.
Dewey Decimal Table
This side table brings together many elements and styles. Retro metal legs were attached to an old library card catalog cabinet, then a mirror was placed on top for a little glamorous flair.
Pinball Wizard
An old pachinko game was repurposed into a conversation-piece table. To make the transformation, ornate legs were simply fastened to the bottom of the game.
Log Slices
This pair of accent tables was made using rough-cut lumber and old metal chair legs.
Mid-Century Makeover
Two-tiered end tables and nightstands were all the rage back in the 50s. The design is very practical. With a new coat of paint or finish, an old relic like this can become an indispensible piece of furniture.
Reverse Stencil
There's almost nothing paint can't fix. Floral patterns were blocked out over the original wood finish while the whole table was painted white. The results are earthy-looking flowers on a crisp white palette.
Outdoor Table
Old coffee tables are a perfect addition to a front porch. Look for a flea-market special and use a high-gloss, exterior paint that will stand up to the outdoors.
Poultry Crate
Farmers used to use these old wood crates to carry chicks and hens to market. This one found new life as a coffee table with plenty of storage for board games and books.
Trunk Space
Steamer trunks come in many sizes, shapes and colors to match almost any decor. And the best part: they're great for additional storage.
Front Door
An old door finds new life as a coffee table. The rustic finish is perfect for a family room. You can put your feet up, spill soda on it, not use your coaster – it doesn't matter – it'll all add to the natural, rich patina.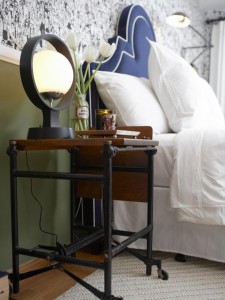 From the Typing Pool
Old metal typewriter tables can often be found at flea markets and antique shops. These sturdy structures are a perfect height for a bedside table.
Checkers or Chess, Anyone?
A salvaged-lumber table is made to multi-task when simple red squares are painted on top to make a checkerboard.
A Coffee Table That Grows
On a warm summer's evening, an outdoor coffee table filled with sod is the perfect place to put your feet up and feel the grass between your toes.
Timber Table
The hardest part of making this table is lifting the heavy timbers. The easy construction requires no miter cuts, no trim pieces, no dovetails, just a few rustic timbers fastened together.
Barn Wood
Weathered timbers make a solid table and can go with many styles – rustic, old world, contemporary, eclectic and more. The angle cuts on the legs of this table give it an Asian flair.
From Music to Cocktails
An old 1950s stereo cabinet was gutted to transform it into a bar table.
Pink Spool
A littel pink paint helps turn an industrial wire spindle into a combination coffee table and book rack.
Factory Cart
Industrial-cart coffee tables have been in vogue for some time now, this butcher-block style cart makes a wonderful contrast to its modern surroundings.
Wood Crates
Two old crates stacked on an industrial cart make a portable shelf. The hinged openings make it easy to hide clutter.
Table Over Ottomans
This coffee table was made specifically to fit over top storage ottomans, thus providing a soft place to put up your feet as well as a hard surface to put down your drink.
Credit: HGTV