Are you considering placing your home on the market for sale this Spring? If you are, then you're already on your way to selling your home fast and for more. The Spring market is the single best time of year to sell your home. We have found that Spring has generally yielded the highest price for sellers – however, this is only possible if the proper preparations are taken before Spring arrives.
Although Spring may result in the seller receiving top dollar for their home, the competition will also be the strongest. This means it's absolutely critical that you're prepared for the Spring real estate market so you can knock out your competition.
Let's discuss some tips that will help you get ready.
Benefits of Selling Your Home in the Spring.
As realtors, a common question received is "when is the best time to sell your home?". Our first answer is whatever time is best for you and your family. As active agents, we can always assist with a strong marketing and sales plan, no matter what season we hit the market. However, if it makes sense to wait, and you aren't disrupting your family or life by waiting, then we would recommend waiting to list in Spring. If prepared, your home will look its best with a nicely groomed lawn and budding flowers versus dealing with snow accumulation, bare trees and shrubs and limited views of your exterior space due to weather conditions. Plus, the warm weather gets people out of their homes and ready to hit the open houses.
Per Forbes, homes listed in the Spring, specifically May or June, sell for an average of 6% more than the average yearly home sales.
Let's chat about the weather…Spring is a beautiful time of year in New York. The sun is shining, your lawn is green, flowers are blooming – these factors matter and they will help you get the most amount of money for your home. Warm weather also wakes buyers up from their winter hibernation and gets them out and about. During the winter months, people don't want to leave the comfort of their own homes, whether to house-hunt or otherwise, it's easier to stay in. Also, we can't forget that between November and December you walk right into the holidays, which is always a tough time to sell.
Mountains of snow and slush, although not a major issue for most of this winter, keep buyers from seeing a home's potential and keeps them indoors. With good weather, comes an abundance of buyers with an increase in demand for homes. Curb appeal will be noticeably better and the ongoing maintenance will be less noticeable than those during the winter months.
One additional factor that gets buyers out shopping in Spring are families with school age children seeking to get their family settled into a new residence before the upcoming school year begins. By shopping in Spring, families will close and move in to their new home with plenty of time to spare before September rolls around and the kids are off to school again.
We've Discussed the Pro's – Are There Any Cons to Selling in the Spring?
We can't ignore the competition. You should expect increased inventory in the Spring, which means you need to stand out among the competition.
We outlined tips below to assist you in preparing your home – ensuring that you walk away from the closing table satisfied with your sale.
Expert Tips to Help Get You to the Closing Table.
You've decided on selling in the Spring, now let's review some important tips to help you get the most money for your home. Today's buyers, particularly younger ones, have high expectations. They are looking for a home in excellent condition, with all its best features showcased.
Start Preparing Your Home in the Winter.
If you're planning on selling your home in the Spring, then you should be preparing to sell in winter or earlier if needed.
Be ready to list by April. In order for your home to sell in May, we recommend listing the property in April. Another smart strategy, if you're ready of course, might be to consider listing your property in March. By listing in March you could avoid some of the competition, however, you might leave some money on the table, considering some of the comments shared in this post.
If the focus remains on selling in May, then you need to start preparing your home for sale as soon as possible. Depending on what the home requires, e.g. renovations, you may even need to start preparing your home as early as the winter or fall months.
When Should I Contact an Agent?
We recommend reaching out to an agent as early as the beginning of February.
Interview multiple agents and make sure you choose an agent who can accomplish your goals and is a good fit for you and your family. A agent normally needs time to prepare marketing materials for the property, which include professional photography, mailers and more. Additionally, your agent should have feedback for you with regard to the condition of your home and tips for preparing for the sale.
For example, our team may recommend professional partners to help you accomplish your preparation goals (e.g. interior designers, stagers, storage facilities, etc.). We have a great deal of experience in prepping homes to look their best in order to sell at the highest possible price. We are always conscious to share smart tips to address trouble areas with the goal of improving the appearance of your home without breaking the bank. We know what buyers are looking for today and will share our insight to ensure we help you get to the closing table.
Remember, there is no fee for speaking with an agent. It's only a benefit to you to get the opinion of a professional. Our fee is earned after we reach the sale of your home.
Renovate or Sell As-Is?
Let's get your home ready. Whatever your budget may be (e.g. $400 or $40,000), we normally suggest certain improvements to ensure you're home looks its best.
There are simple, inexpensive fixes, such as decluttering, removing unused furniture, toys or kitchen equipment (e.g. old high chair or mixer) personal items (clean out closets, considering donating) and performing a thorough cleaning (inside and out). This alone will help your home sell for more and in a timely manner. However, if you do have money to invest, focus on some key areas that will impress the buyers in your area.
Strategic Renovations and Fixes.
Inside the house, it's no secret that kitchens and bathrooms will give you the best return on your renovation funds. This is followed by flooring (refinishing, staining or both), replacing fixtures & hardware, and painting. By investing a few thousand dollars you could give your home a major facelift and increase the overall value by thousands more than you spend. A dimly lit room painted in a dark color can be completely transformed by swapping out a light fixture and lightening up the space with a fresh coat of paint and when it's all done, you'll only be out a few hundred dollars.
Remember, it's important that you focus on improving the home both inside and out, especially since we're discussing Spring selling. Engage your landscaper or put on your gardening gear and clean up your yard, prepare your lawn, clean your garden beds, plant flowers/bulbs, powerwash patios, fix or replace mailboxes, house numbers, and shutters. Replace light bulbs, clean gutters and repaint areas that need a touch up. These minor updates can have a major impact on your home sale.
First Impressions Are Everything.
What can you do to stand out from the competition?
Work with a team that can help you create great first impression! Where will most buyers see your property first? Online. Your goal is to create an impactful first impression of the property online, incorporating professional photography, floorplans, possibly a virtual tour or video and if recommended, a property website. This will also be incorporated into property brochures and mailers. The end goal is to make your listing stand out and drive buyers to tour the property.
If you've checked the above box, you can guarantee a full open house. The next goal is to ensure that your curb appeal has been maximized. Make sure you've walked every square foot of your property and identified all required updates and minor renovations (everything from the exterior fence, mailbox, shutters, gutters, patios, etc. should be reviewed). Before photography is taken, you're home should be sparkling inside and out. With a stellar online and offline presence, buyers will be filling up your agents voicemail with appointment requests.
Lastly, make sure that when a buyer walks through the front door, you create a memorable first impression of the home. We want a buyer to fall in love with your home the second they walk in. How do we accomplish this? We believe in a multi-sensory approach. Lighting, smell, sound, appearance – it all matters. Your agent should walk you through these steps, making sure any imperfections or issues are less noticeable and that a buyer focuses on the beauty of the home the moment they step into the home. Our goal is to make it easy for buyers to envision spending many years to come in the home and feel like they are at home.
Get the Experts to Help!
A key factor to remember, is that one of the most important tools that great agents use to stand out from the competition is other professionals. These professionals can include stagers, photographers, creative agencies, web designers, videographers, advertisers and much more.
Our team has a great deal of in house experience, but when we can't get the job done – we reach out to our partners, so we know the work is beautifully done.
Get Your Listing Price Right the First Time.
The first two to three weeks when selling your home are imperative. Pricing your home right the first time will set you up for success. Your first open house should be a good indicator of whether you've gotten this right or not.
The buyers who are ready to buy a home have probably already been shopping when your home hits the market. Serious and qualified buyers are the ones who will typically view your home in the first few weeks of the listing. After that point, most views are expected to come from buyers who are new to the market. What does this mean? The first three weeks and even first few days, you have a significantly better chance of selling your home than any time afterwards.
In order to stand out from the crowd and create a great first impression during the first few weeks, pricing needs to be top of mind. If you work on the mentioned tips, we expect that your hard work will pay off and you'll be pleased with the listing price recommended. Remember, as agents, we determine your market value by looking at the overall market conditions and comparable properties. We want you to capture the greatest return on your investment and walk away a happy camper.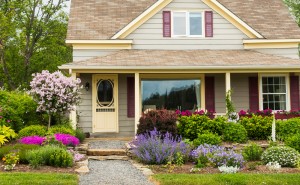 Properly Market Your Home.
You've done a lot to make sure your home will sell for top dollar and in a timely manner. However, you need to make sure your property is marketed to sell fast.
There was a time when agents would list a home on MLS and they'd wait for the calls to come in. That is no longer how a home gets sold. An experienced agent should be actively targeting buyers both on and offline. If you are mindful of this when interviewing agents, you will land with the right agent – one that will get you to the finish line.
When selling a home today, the goal is to get in front of as many buyers as possible – the only way to accomplish this is by utilizing smart marketing tactics. MLS is a must, but that's only your agents first step. A good agent will set your property up for success with the appropriate creative assets, marketing tools, customized open house, utilization of online advertising, social media, mailers, internal network, and more to help promote your home for sale.
What's the goal? Get your your home in front of as many people as possible, making sure your listing is impactful and memorable. Long gone are the days where you simply wait for buyers to show up.
Work with an Agent that Makes You Money Rather than Costs You Their Commission.
We can't share how many times we scroll through listings either on MLS or other online portals where a property is featured with less than professional photographs, grammatical errors, lackluster property descriptions, no floorplan or simply wrong information. The commission paid to your agent shouldn't be perceived as costing you money, but rather as a fee you pay to get extra money on the sale of your home. Your agent should work for their commission.
Agents should offer you services that make you money – e.g. Staging, Professional photography, Floorplans, websites, exposure on and offline through marketing and advertising efforts.
The #1 goal should be to sell your home quickly and for top dollar.
Spring is Around the Corner.
If you're thinking about selling your home in the Spring, please reach out to us! We love talking about real estate and it won't cost you a thing to call and ask us some questions. Whether it's what you should do to prepare your home for sale or picking our brains about how to effectively market your property, please don't hesitate to reach out to us.
Visit our new office located at 27 Audrey Avenue, Oyster Bay.
If you're interested in receiving a complimentary home evaluation or looking to receive updates on the market, or simply have a few questions for us – please reach out.
East Egg Realty has gladly been helping our customers find their Happy Place for over 15 Years. Experience the East Egg difference. Reach an agent today at 516.299.9240 or visit us at www.easteggrealty.com.