Actors Maggie Gyllenhaal and Peter Sarsgaard were early adopters of the Brooklyn celebrity boom, having purchased their stately four-story townhouse 12 years ago, when historic homes such as theirs could still be had for under 2 million dollars (they paid $1.9 for it). But now the couple and their two kids appear to be on the move — and they've listed their stunning brownstone for $4.5 million.
But don't fret, Brooklynites, they're not going far — just switching neighborhoods to be closer to their children's school. "The motivation for moving was to be able to walk [the children] to school," Gyllenhaal told the Wall Street Journal. (We get it, Mags, traffic on Atlantic Avenue drives us batty, too!)
The home boasts four bedrooms, two and half bathrooms, and a 55-foot deep garden. Designed by in-demand Brooklyn architect Elizabeth Roberts, it has some enchanting features. Let's take a look…
The four-story brownstone sits on an elegant, leafy street in Park Slope, Brooklyn, and features numerous historic details. The couple purchased the property in 2006 when they were pregnant with their first child, Ramona. They have since expanded their family to include daughter Gloria.
The interiors have a rustic, cozy vibe. The centerpiece of the living room is a working fireplace.
The garden-level kitchen features exposed beams, a butcher-block island, and cabinets made out of teak. The backyard includes an original clawfoot tub for outdoor bathing.
An original marble mantle adorns the expansive master bedroom with views of the tree tops.
If a deep-soak is your thing, the wooden bathtub in the master bath should have you covered.
Additional images of their home office, living room and outdoor space are found below.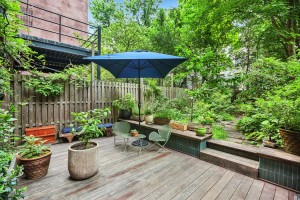 Credit: Patricia Cunningham, Bravo