Check out these designer-approved ideas that will help you add some fall-flair to your home.
Layers of Texture & Faux Fur
"As temperatures begin to drop after a long, hot and humid summer, I can't help but anticipate the arrival of fall. I love to mix up a few of the decorative items around my clients' homes, as well as my own, as fall is one of my favorite times. An easy way to create a cozier vibe is by changing out throw pillows, adding textural layers such as faux fur, leather and heavier throw blankets, and bringing in a more saturated color palette in both indoor and outdoor spaces. And if you're up for splurging on a few investment pieces, now is a great time to reupholster chairs or small pieces like ottomans for an updated look that can easily transition from season to season," designer Abbe Fenimore explains.
Add Warmth With Fall Hues
Marie Flanigan says, "warm things up — trade in that cheery summer palette for deep autumnal hues, like umber, mahogany and bronze. Toss in weathered woods, richly textured linens, and vibrant seasonal produce for a pastoral warmth that will captivate your heart and home."
Bring the Outside In
"Bring the outside charm in. I love adding natural textures such as cotton, leaves and twigs mixed in with gourds and pumpkins for a soft fall feel. The contrast of a rustic urn or galvanized metal tray will highlight your fall foliage. Add in a preserved boxwood or a green berry ball for a pop of color contrast to highlight the warm tones and your fall feel will last all the way through Thanksgiving," explains Lauren, from Lauren Nicole Designs.
Textured Pillows & Throws
"When I want to cozy up my home for fall I always tend to change out my throws and pillows for chunkier, heavier ones with lots of texture like a chunky knit or faux fur. I also accessorize with 'warmer' feeling trays and accessorize by switching out whites for wood tones," says Lexi from Lexi Grace Designs.
Comfy Reading Nook
"Fall is a perfect opportunity to build a little nook in your home with a stylish vignette that encourages you to curl up with a good book or grab a warm throw and a hot cup of tea! If you're up for rearranging some furniture, you can pair an armchair with a side table or bookshelf in a corner space to create an instantly cozy nook. To build your vignette, decorate that side table or bookshelf using small objects (candles and incense trays come to mind for a full cozy effect), books, and tabletop lighting. Even if you don't rearrange any furniture, a vignette like this will create a polished and sophisticated look that is also fall-ready," explains Los Angeles based designer, Caitlin Murray, from Black Lacquer Design.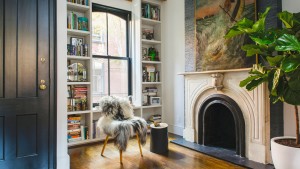 Fall Scents
"Add spicy colored pillows and throws to cozy up for fall. Don't forget scented candles, such as pumpkin or caramel apple, to give your space delicious aroma of autumn," says designer, Amy Conner-Murphy from ACM Design.
Get Cozy With Velvet
Edyta Czajkowska of EDYTA & CO. explains, "when the weather starts to get colder, swap out your summery linen throw pillows for cozy velvets. They will instantly up the "warm" factor and are great for snuggling up with on your sofa. In my client's party room, we had some custom velvet pillows made in vibrant colors to add a pop."
Accessorize With Seasonal Fruits
Stefania Skrabak, principal designer at Art Home Garden says, "bring the season's bounty indoors! I like to use groupings of fresh fruits, like green apples and pears, and clusters of green and white pumpkins and blue hubbard squashes. Mound on a bed of eucalyptus in a rustic wooden bowl and accent with dried hydrangeas from the garden or branches picked up on a walk. Not only are they all beautiful, but you have ingredients for tonight's dinner and healthy snacks for the kiddos to graze on during the day!"
Stacked Firewood
Kelly Mittleman of Kelly and Co. Design explains, "stacked firewood is always a great touch in a metal bucket or on its own. Blankets and throws change the room instantly. Candles and a jug of fall branches on the table, and of course a pumpkin – anywhere."
Credit: Betsy Lehndorff, HGTV
Link: https://zurl.co/IPle