Oozing with bright, cheerful vibes, this revamped apartment captures the nostalgia of hanging out at your cool grandmother's house.
Named Le Temps Retrouvé, which translates to "time regained" or "the past recaptured," Andrea Marcante and Adelaide Testa of local studio Marcante-Testa have envisioned this lovely home to be "a repository of the most intimate facets of people and their memory."
Located in the center of Milan, Italy, the 1,300-square-feet apartment has been lightly renovated on a tight schedule to improve spatial perception, as well as add character.
A look at the candy-colored sofa by Arflex with cushions by Kvadrat, and a 1950s rattan wicker by Gio Ponti.

The airy abode features three bedrooms, two bathrooms, and gorgeous French windows that look out to trees in the internal courtyards.

Marcante-Testa has integrated materials like wicker headboards, linen-upholstered seats, straw chairs, accessorized dividers, colorful wallpaper with botanical prints, and splashes of candy-toned greens and pinks to create a modern rendition of "grandma's house."
Although the home is nestled in a busy city, it has the pleasure of overlooking a peaceful internal garden. Here is a verdant tree in the middle of the courtyard on the property.
A closer look at the kitchen.
Details of the passageway: wallpaper by Maharam, a reading area with a vintage bookcase, and a 1950s armchair from Carrozzeria 900.
In the living room sits a side table by Classicon. The Aubusson carpet is by Carpet Eden.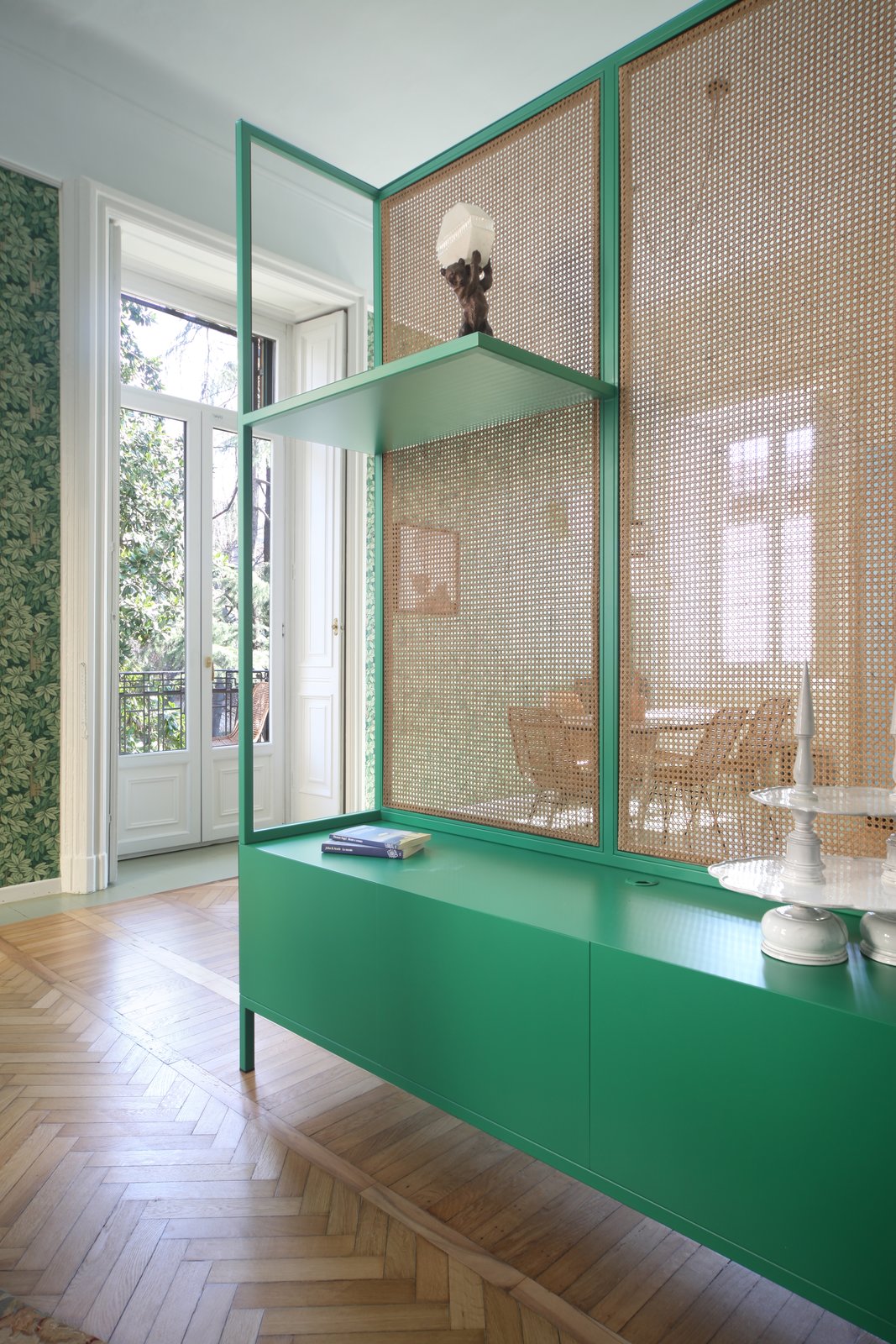 Here is a look at the lacquered MDF and Vienna straw cabinet, which was designed by Marcante-Testa and crafted by Falegnameria Fiore.
This room features wallpaper by Fornasetti for Cole&Son, a wall lamp Grillo by Petite Friture, a custom-made table-top in marble-effect laminate by Abet Laminati (sitting on legs by Hay), chairs by Hubsch, vases by Spotti, resin on parquet floor by Rezina, and a suspended lamp Formakami by &Tradition.
The interior perspectives change and vary depending on the chromatic contrasts on the walls. Sunlight pours in through the windows, imbuing the vibrant walls with a somewhat surreal glow.
In the bathroom there is a lacquered MDF, metal, and glass cabinet, which has also been designed by Marcante-Testa.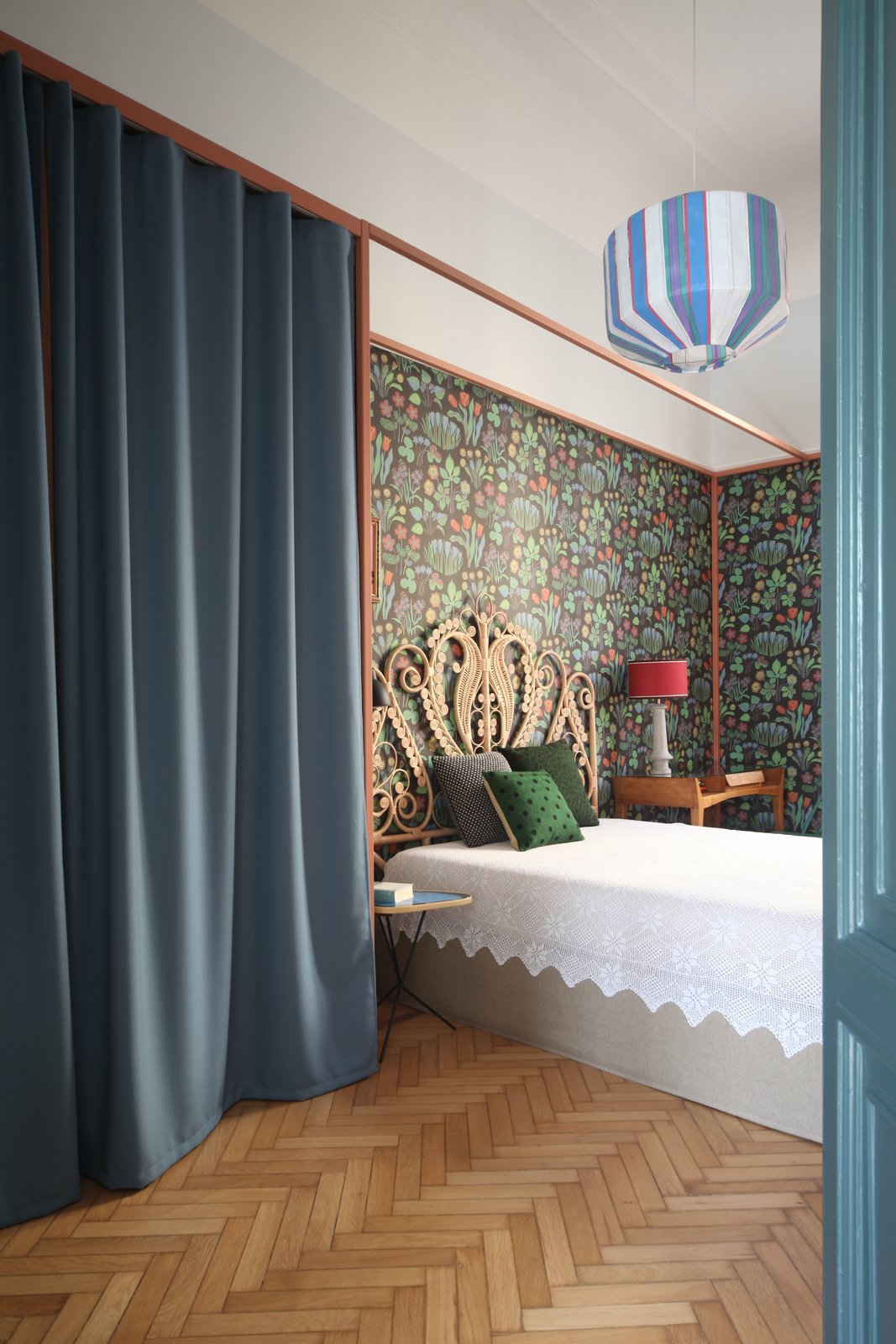 In the dining area, the architects have also incorporated a pale-green resin to partially cover the wooden floor and create a "carpet" around the table and chairs.
In this room, the wallpaper is by Svenskt Tenn, and the table lamp is by Servomuto.
Using the visual relationship with the greenery outdoors as a guide, Marcante-Testa has created a family home with plenty of personality, where humor, lightness, and a delightful sense of nostalgia bring family members closer together.
In the bathroom, the resin is by Rezina.
Here, the washbasin is by Ceramica Globo, the Life taps are by Bellosta, and the wall lamp is by Lampe Gras (DCW Editions). The mirror has been customized for this home.
The Le Temps Retrouve Residence Floor Plan
Credit: Michele Koh Morollo, Dwell
Link: https://zurl.co/Us0t