A home bar is one of the most fun places in the house, and it's a great area to add a pop of color – whether in the cabinetry, stools, walls or art. Browse this collection of in-home bar designs featuring playful and chic color choices.
LIFE AQUATIC
A seafoam bar in this Sacramento home by PepperJack Interiors is fresh and fun.
THE SOPHISTICATE
In a Greek Revival by CWB Architects, a slate-blue bar off the living area is lit up with a cone-shaped pendant light.
BOHEMIAN LAIR
A quirky low cocktail cabinet in limed oak provides an eclectic touch in a residence by Rupert Bevan Ltd.
BEACHY KEEN
In a cottage on Lake Michigan, Buccellato Design, LLC set up a playful, vacation-style bar for the enclosed porch.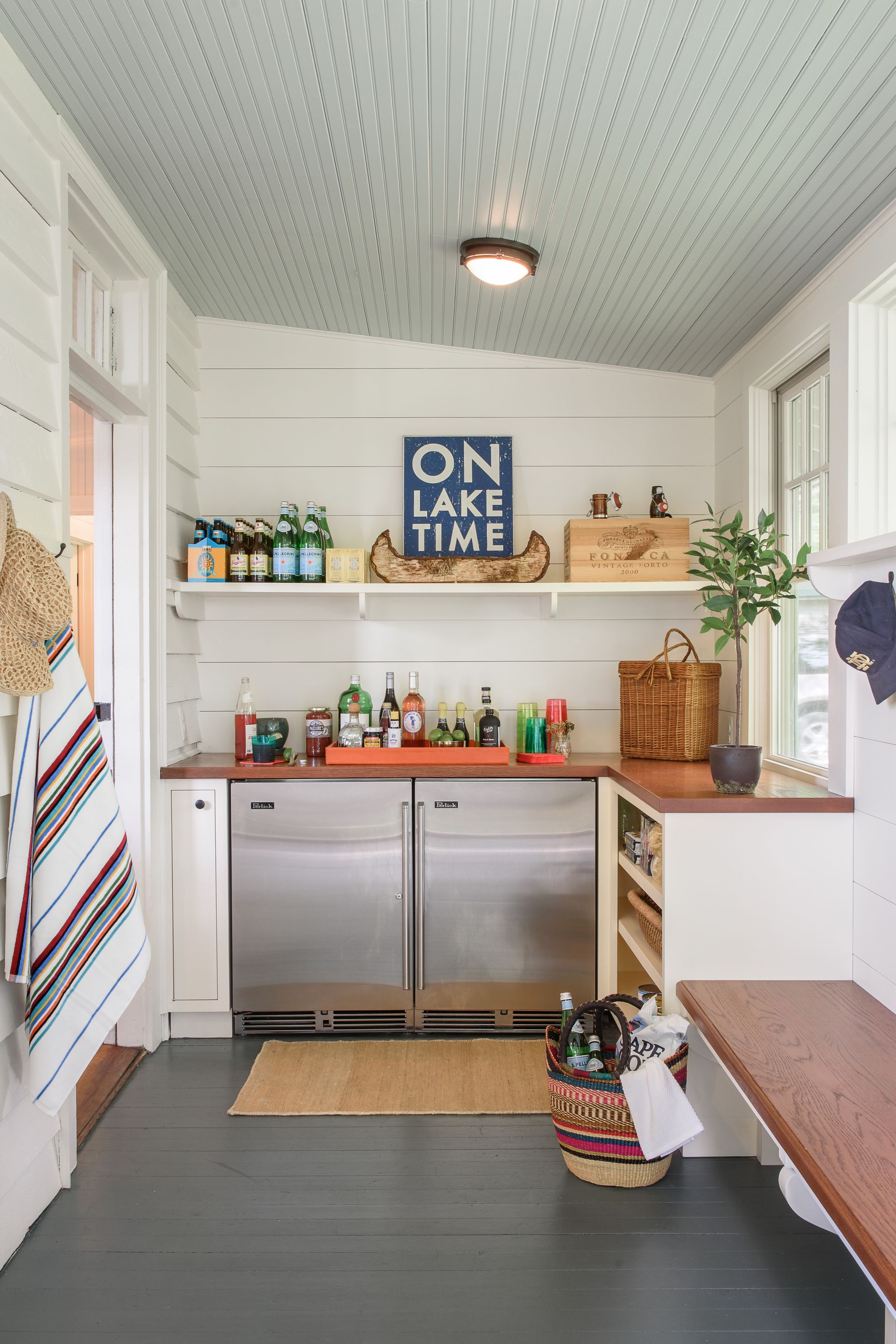 BLUE CRUSH
The deep navy cabinetry and star-patterned backsplash in this kitchen bar by KitchenLab Design | Rebekah Zaveloff Interiors look inspired by the night sky.
ORGANIC DESIGN
Against a leaf-printed wallcovering, this lacquered lilac bar cabinet pops in a room designed by Stefani Stein Inc.
POSH PAIRINGS
In this bar area, Vani Sayeed Studiosmatched a white tile backsplash with a cranberry background hue.
FLORAL EPIPHANY
Detailed de Gournay wallcovering and custom details create an elegant atmosphere for this bar by Barrie Benson Interior Design.
MAXIMALIST TENDENCIES
An elaborate chandelier, acrylic furnishings, and gilt details make this bar by Cindy Witmer Designs a contemporary, sophisticated take on the Prohibition-era speakeasy.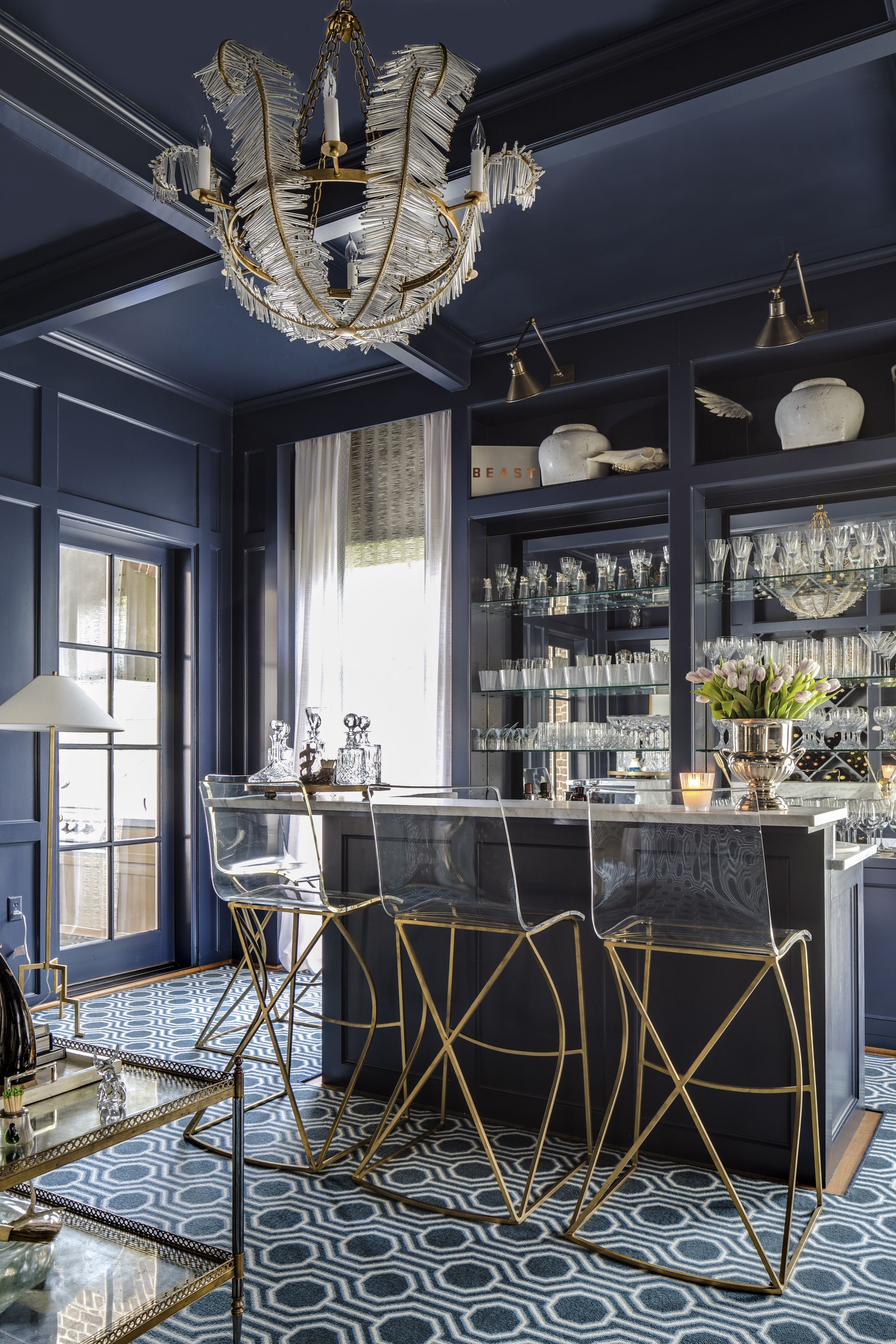 MARBLE PERFECTION
A custom Calcutta marble bar adds depth to the beach-inspired living area by Sarah Barnard Design.
NUIT BLANCHE
A white wet bar by Elms Interior Design is the height of style.
NAVY NEUTRALS
A simple bar design anchors this family room by TRG Architecture + Interior Design.
WOOD-PANELED PANTRY
This wood-paneled butler's pantry by bba ARCHITECTS, complemented by sky-blue wallcovering, is ultra contemporary.
ARTISTIC AESTHETIC
An eclectic residence by KitchenLab Design | Rebekah Zaveloff Interiors in Chicago's Wicker Park neighborhood features a chic bar cabinet.
SIMPLE TOUCH
A living room bar is livened up with art by Noël Fountain in a project from Michelle Dirkse Interior Design.
BRINGING THE OUTSIDE IN
A comfortable home bar with custom cabinetry, marble bar, fireplace, and seating by Lori Gilder Interior Makeovers Inc opens up to the outdoors.
BEACH HOUSE BAR
A beach house by Amy Lau Design includes a dreamy, blue-tiled kitchen and bar with wooden beams and floating shelves.
COLONIAL CREATION
A New England-style bar in this living area by Liz Caan & Co is well organized and well stocked.
SWEET ESCAPE
This living area's best kept secret? A custom secretary-style hidden bar with a mirrored surface by Guggenheim Architecture and Design Studio.
BARNYARD BAR
Haver & Skolnick Architects converted an old stable into a gorgeous home bar.
Link: https://zurl.co/htTB
Credit: BRITTANY COST | DERING HALL, ElleDecor
#LoveWhereYouLive