We wanted to approach commercial spaces as we would a home," say Dolores Suarez and Caroline Grant, the powerhouse duo behind New York City's Dekar Design. As longtime friends, former decorative painters, and interior designers, these women are the talent behind some of New York's trendiest eateries (think By Chloe, Benoit, Bobo, and Rosemary's Pizza).
Their strategy: abandon the traditional uniformity of restaurant design and embrace the cozy, layered atmosphere that we find inside our own homes. They introduce an unconventional approach, rooted in the idea that a restaurant can be…well…non-restaurant-like.
Bobo, Danielle Adams
They start by looking to the bones of a space for inspiration, mixing the old foundation with new accents to create an authentic, detail-oriented atmosphere that is chic and comfortable. The idea, inspired by the rising popularity of boutique hotels, serves as the principal philosophy behind each of their iconic eateries. "People are so much more visually educated now," Suarez explains.
Customers care about the details, and as the restaurant industry becomes more personable, design must adapt. Their disregard for a single design style helps create timeless and transporting spaces that "aren't too-this or too-that." The result: a young and fresh vibe that will never go out of style. Think custom tiling, varied lighting, reclaimed wood, and repurposed vintage accents. Every inch matters, just as it would in your personal space. We checked in with the duo on how to bring these restaurant trends into your own home.
1. DON'T BE AFRAID TO MIX STYLES AND DESIGNS.
"People are afraid to mix things too much," says Grant. When choosing fabrics or tiles, pick a pattern that isn't obviously Moroccan, African or French. Instead, opt for one that is unplaceable and doesn't fall into a specific look. By doing this, you are less likely to get bored of a space, and have more choices when deciding on the surrounding accents.
Claudette
2. GO BOLD WITH BATHROOMS AND ENTRYWAYS.
Suarez and Grant believe bathrooms and entryways are a place to showcase your creativity. Because these spaces are often small and separate from the rest of the home, you can have fun and go bold. A wallpaper that extends to the ceiling or a vibrant floor tile is the perfect way to bring in a unique touch. These areas of the home are places people frequent, so making them a "special moment" for guests is key.
By Chloe, Dekar Design
3. LAYER LIGHTING TO TRANSITION FROM DAY TO NIGHT.
Lighting is fundamental in creating an inviting atmosphere. In your home, consider fixtures that can create both a daytime and evening mood. To accomplish this, the design duo recommends layering light fixtures–sconces and overhead styles—complete with a dimmer. This approach is perfect for transitioning from daytime to nighttime.
Three types of lighting in Bobo, Danielle Adams
4. CONSIDER THE "BONES" OF YOUR HOME BEFORE RENOVATING.
Although you may be tempted to gut-renovate your home right away, Suarez and Grant suggest finding ways to work with existing architectural elements. "If you have beams in the ceiling, expose them. If there's an old fireplace, keep it," they advise. By doing this, you are retaining that beautiful, authentic framework while accenting it in a way that is fresh and cohesive with the rest of the home.
Rosemary's Pizza, Danielle Adams
5. STYLING SHOULD ALWAYS COME LAST.
The key to creating a homey environment that still feels polished and chic: save styling for the very end. "The last 10 percent of your design process matters, and what goes on your walls is critical," says the duo. It is important to map out the finishing touches you plan to incorporate so that you can determine if they all work well together. "Think about those extra details, like a paint stripe below the molding or a two-tone trim." By saving the styling for last, there's more freedom to get creative, because you already have the foundation laid out.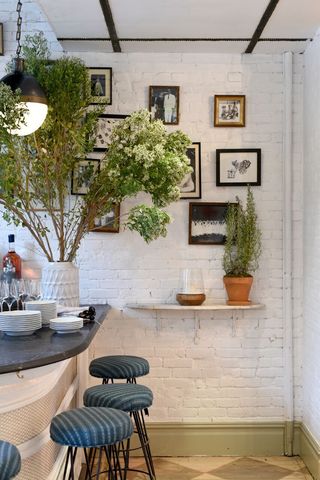 Bobo, Danielle Adams
Credit: Lucia Tonelli, ElleDecor
#HomeDesignTrends#DekarDesign #LoveWhereYouLive
Link: https://zurl.co/2f2F